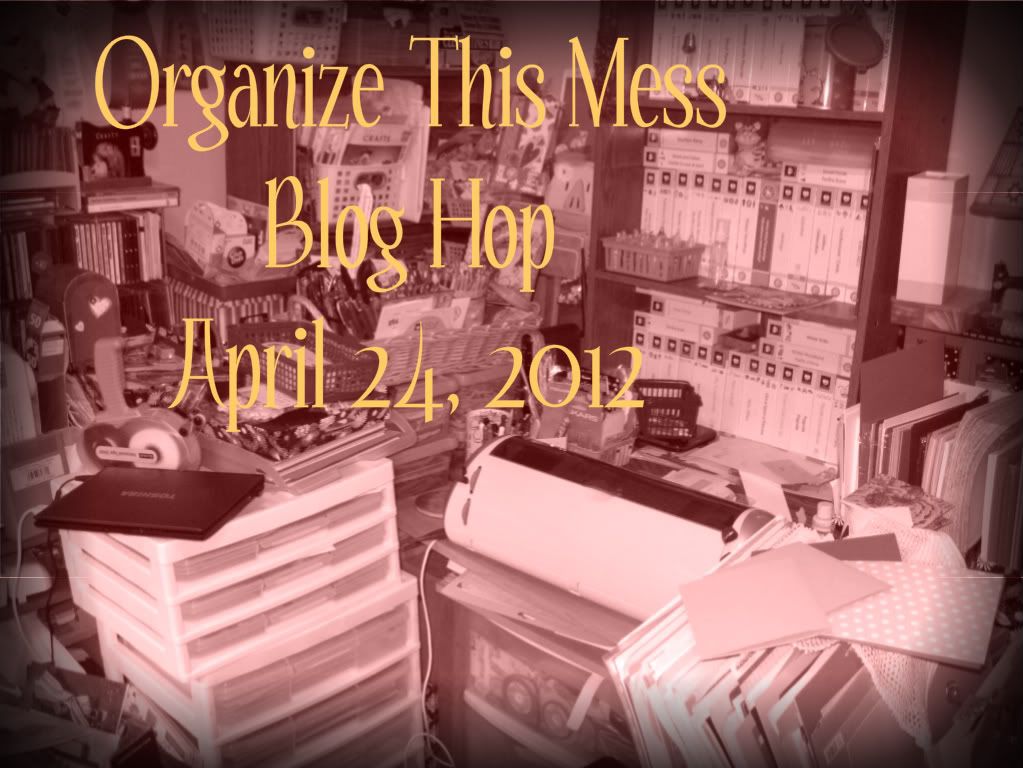 Organize this Mess.....we look at our creative space and just wonder where we put that those clear blocks that we had just used two weeks ago, past Tuesday, of the 3rd of the month. We know that feeling oh soooooo well!!!! I pride myself in my organized "clutter"! Wouldn't it be wonderful to know where everything is and that there is a place for everything and everything in its place!!!!
That's what this hop is hoping to do! Trying to give helpful hints on storage, clever ways to keep things and just organize the mess!!!!!!
There is a very creative cluttered group to help us along this path. We hope you can find the time to organize and hop along with us while we "declutter" along the way!!!! Of course there will be some blog candy to add to "your" organized clutter if you comment along the way and don't miss a single blog!
If you just happened to be visiting me today, I am ever so glad, but don't want you to miss an organized stop. So please start at the beginning, at
Kimberly
She's going to give us a jump start on cleaning this mess! If you have arrived from my awesome talented sister,
Patti
, then you are more organized than I am!
I have to tell you, I am not the most organized person, so this hop was a struggle for me. I have a very small crafting space.
This room, also serves as a bedroom (queen size bed is behind my chair) and a laundry room. I love my ribbon storage which is right above my computer screen - it is very handy when I am making cards, my printer is on the left along with my cuttlebug and my cameo is on the right under my paper storage.
Last month, I came across a photo keeper and I LOVE IT!!
It holds 20 little boxes which is perfect for holding Nikki's images. I always print more than one, sometimes I use both, for layering, sometimes I don't. These little boxes are perfect for all the extras. I don't have to worry about them getting bent.
I have taken this little box with me to work with a small pair of scissors (which also fit). I love these boxes!! I also found they fit the clear acrylic blocks also. So if you go to a lot of crops or over a friends house, I recommend getting this system. I bought this at Micheals with a 50% off coupon so it was affordable.
This is how I decorated a few so I know exactly what is in them.
Now, that I have given you a way to get organized, let me send you on your way to
Lisa
to give some more helpful hints and tips to organize this mess!