Happy Monday!! These next couple of weeks we are still being sponsored by
Paper Wishes
!! I am so excited to have them sponsor my blog along with my sisters at
Patti Lynn Creations.
They have been so so generous!!
I am also excited to have another special Guest Designer, Amy Voltz. She writes:
I would like to extend a HUGE thank you to Linda for inviting me to be a Guest Designer -- I was so excited to find the Creative Sisters' Challenge as I have always credited my sister for being the one to first spark my scrapbooking interest :).
My name is Amy Voltz, and I am the proud mom to two very wonderful teenagers!! I've been scrapbooking for as long as I can remember -- It all started when my older sister would cut up her Polaroid pictures (gasp!), hand cut titles from constuction paper (double gasp!), and put everything in those magnetic photo albums (the horror!!)...Anyway, my scrapbooking has evolved greatly since those beginning days -- I now use photo safe products and I really enjoy using all of the tools acvailable to scrapbookers!!
In addition to teaching people how to preserve their memories, I also create kits for card classes and teach Cricut classes to help people just like me get the most out of their scrapbook supplies and tools!~
I can't imagine ever srapbooking without punches -- I don't care how heavy they are, I tote two huge bags of punches with me whenever I scrapbook!! I'm so excited to get to show you one of my 'all punch" page layouts here...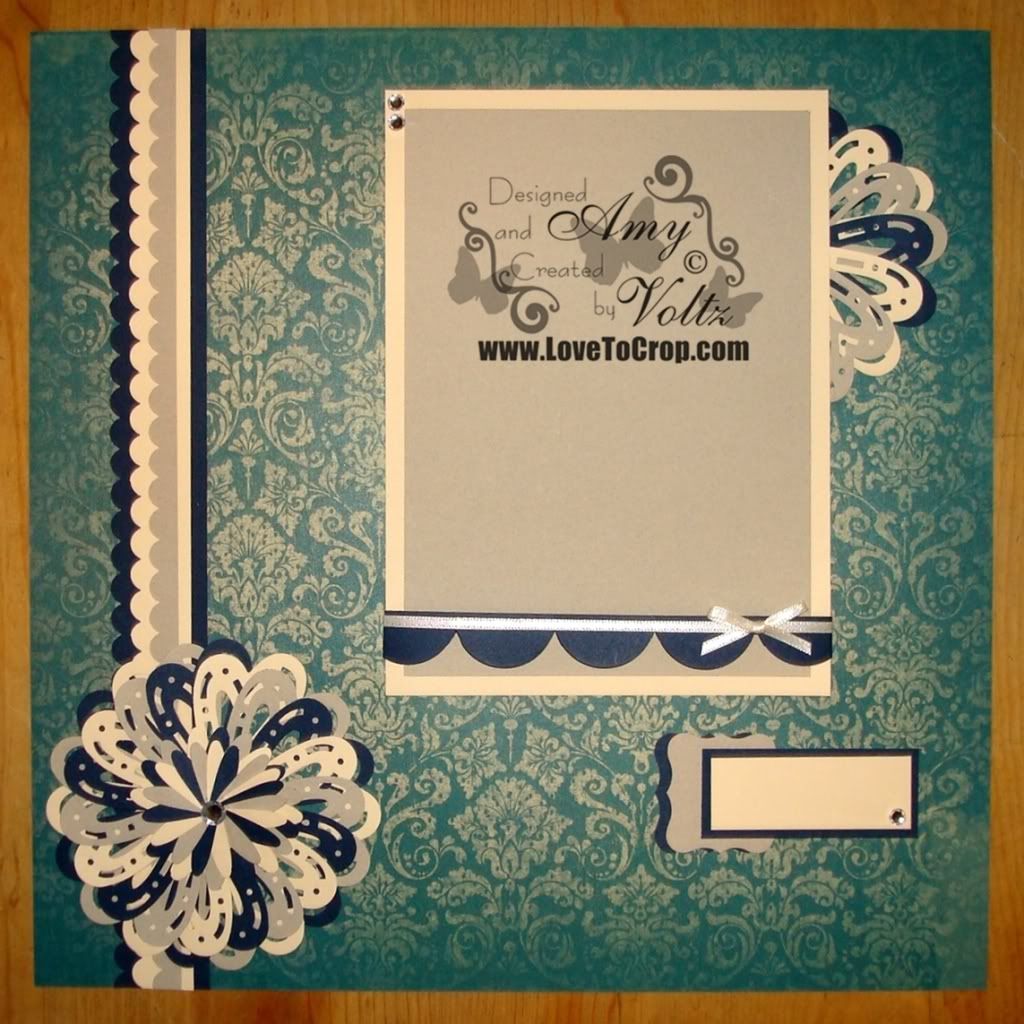 My punch-art flower was actually created by my daughter (loving referred to as 'The-Girl-Child')..It truly is a blessing to have my daugher as the inspiration for this layout. I will be giving away some of her beautiful punch-art flowers this week over on my blog (http://www.lovetocrop.com/), so please be sure to stop by and let me know that Linda sent you!!
My challenge is to use your
punches!
I love border punches, corner punches, regular punches...I think they add so much to a layout or a card. If you look at my past postings, you can see I use them a lot. For this challenge I decided to do a scrapbook layout. I used bazzill cardstock for the base and the Journal Kit for the Classic Girl from
Paper Wishes
for the patterned paper, the little sayings and the little envelope.
I used Martha Stewarts hearts border punch on one side of the patterned paper. Behind the saying, I used my Stampin Up scalloped oval punch.
I had to punch the ovals out four times and mount it behind the saying.
Hot off the Press also gave me some Dazzles to play with. I LOVE them. They are so delicate, just what I wanted for this layout. I placed the photo corners on the main picture of my mom and then placed a few butterflies and dragon flies randomly on the page.
All these pieces came in the Journaling Kit.
Hope you all enjoyed the layout. It is a personal layout, my mom passed away almost 2 years ago and I needed to do a nice layout of her for my scrapbook.
Ok...now for the blog candy!!! Paper Wishes has provided a great prize pack to pass onto you.
In this prize package, you are getting FOUR packages of Dazzles, 2 packages of 3-D Papier tole die cuts, a sampler 6 pack of Color Me paper - these look like they would be so fun to play with - also a paper pack of 12 papers 12 x 12 and a small stamp set. How awesome is that???
On top of all of this Paper Wishes has a GRAND PRIZE package. If you enter my challenge along with
my sister,
Patti
's challenge, and become a follower, you will be eligible to win the grand prize.
"Color Me" Sampler 6 Pack
"Color Me" Gold Sampler 6 Pack
"Dazzles" Enchanted Moment Stickers
"Soft Nostalgia" Paper Pack 12 papers ( 2 of each)
"Sarah Surfaces" 8 x 8 album
1 Pkg. 8 x 8 sheet protectors
"A Cuppa" 3-D Papier Tole Die Cuts
"Playful Flowers" 3-D Papier Tole Die Cuts
Giant Flower Card Template
Fold Back Swirls Template
Berry Box Template
15 Lovely Labels Template
Sara's Surfaces Pinwheel Pockets - set of two
Sara's Surfaces Little Purses - set of two
Small Stamps - Love with a tree...
Sweet Tweets set of stamps
6 Pkgs of Dazzles stickers!!!
Teresa's Card Classes #1 - DVD showing 132 cards.
Teresa's Card Classes #2 - DVD showing 131 cards and 10 envelopes.
Ok, so lets get punching!! Link up with Mr. Linky, I will drawing the winner on April 3rd. Have fun!! Remember to visit my sister,
Patti
for an extra chance at some blog candy!